Download to PDF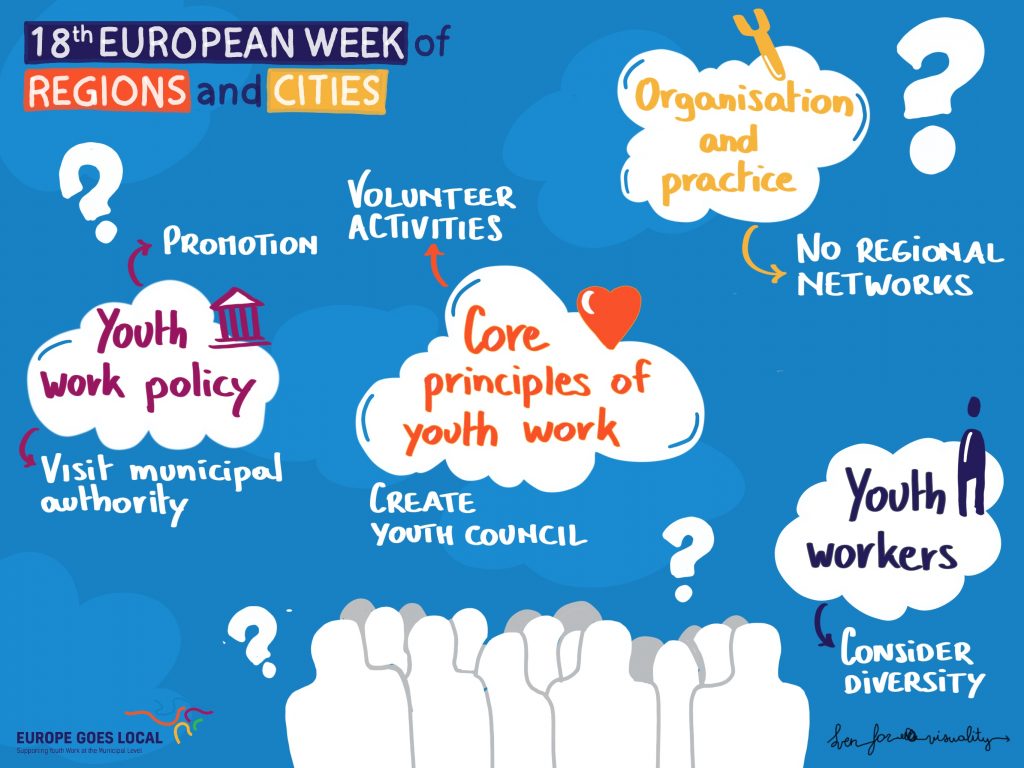 Youth policy at the local level – Participatory Lab at the European Week of Regions and Cities
Belgium, Brussels, October 6 - October 6, 2020
European level activity
Europe Goes Local was present at the European Week of Regions and Cities which took place in the on-line space in 2020. A Participatory Lab was dedicated to local youth work and to the introduction of the Charter on Local Youth Work.
Description of the session on the official website of the event:
"In most European countries, the responsibility for youth work lies to a large extent at the municipal level, as this political and administrative structure is closest to young people. Municipalities help to improve the living conditions of young people in a variety of ways and circumstances. The European Charter on Local Youth Work describes the prerequisites of quality youth services. The lab will be a platform to discuss these elements, covering 1) youth policy, 2) organisation and practice, 3) the role of youth workers, 4) quality development, and 5) core principles.
The lab will start with 2 plenary inputs: 1) Introduction to the Charter; 2) Presenting the youth services in a European city
The next part is a world café with break out sessions with 5 topics. Each table will have an example shown via a short movie  but participants will also be invited to share their views on the topic.
The lab will end with a plenary, drawing conclusions from the discussions.
Sergio Goncalves, Trainer and Project Manager, http://hamoment.org, Portugal.
Ena Peeva, Digital facilitator, Eduactive, Italy.
Antonina Radeva, communication expert, Generation Why Not, Belgium.
Sven Retoré, Visual facilitator, Visuality, Belgium.
Radmila Van Os, communication expert, Generation Why Not, Belgium.
Judit Balogh, project coordinator, JINT, Belgium.
Katarina Gorenc, Head of Youth Office, City of Ljubljana, Slovenia.
 6PL1507V
 Participatory Lab – world café, ideas labs
 Empowering citizens
 JINT vzw
English (EN)"
Recording of the session: https://euregionsweek2020-video.eu/video/youth-policy-at-the-local-level