Download to PDF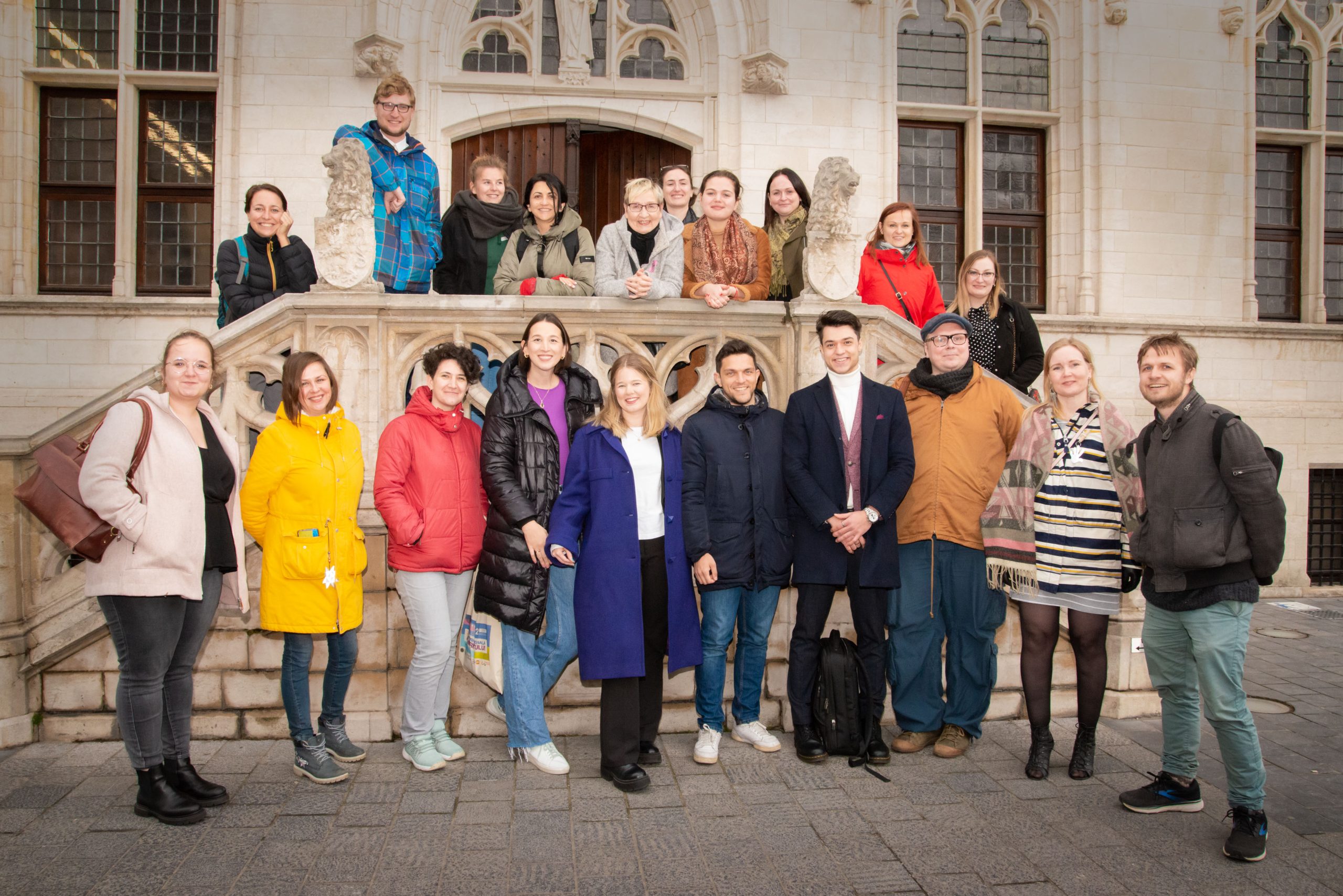 Go for Change! – Creating knowledge-based strategies through participatory action research and follow-up
Belgium, Finland, April 4 - June 16, 2022
European level activity
Go For Change! was a Modular Training for Stakeholders Involved in Developing Youth Work at Municipal Level. This modular training was designed to support local youth work developers to improve the quality of local youth work by using participatory action-research tools and creating strong local strategies, in line with existing European practices and policies.
Go For Change! in Kortrijk
The first training took place from the 4th to the 7th of April 2022 in Kortrijk, Belgium. The participants explored their roles as youth work supporters, discovered our European Charter on Local Youth Work, and learned about Participatory Action Research, among other things. Stad Kortrijk and mayor Ruth Vandenberghe also met with our participants and invited them for a warm reception at the town hall. You can read the press release in Dutch about the training here.
Go For Change! in Kouvola
The second training took place from the 13th to the 16th of June in Finland, Kouvola. This time the training module focused on strategic thinking. A volunteer of the European Solidarity Corps in Kouvola, Ona, wrote a blog post about the training course in Kouvola.
Webinars
Next to the trainings in Kortrijk and Kouvola, there were also webinars.
First the webinar Introduction to Participatory Action Research (PAR) in Youth Work took place on the 28th of April 2022. PAR is a way to invite local communities to learn about their own needs and aspirations. Participants learned about PAR and how they can use it to involve young people and other stakeholders in reflection, collaboration, and social change processes.
Our next webinar Fostering Meaningful Communication in Your Local Reality took place on the 9th of June 2022. During this webinar participants:
Gained understanding of dialogicality and the "Timeout-Dialogue"-model (Finland);
Learned ways how to involve young people equally to discussions in their community;
Understood better how complexity and challenging topics became a richness for learning and development in local realities;
Reflected on their own ways of communication towards their stakeholders;
heard examples of dialogue having an impact on democratic processes
Practiced their own dialogically;
and more.
Context
Want to have the space to work on evidence based approaches for youth work in your municipality? And to see what Europe has to offer for local youth work?
In the European Charter on Local Youth Work it is stated that: The quality development of local youth work needs clear procedures for continuous analysis of and reflection on outcomes in terms of how they relate to preconditions, work processes and activities, and the need for further development;
In order to meet this demand, the "Go for change" training lead participants to a reflection and analysis of their own local youth work realities through offering tools and approaches for planning and implementing participatory action research.
The concrete aims of this modular training were:
Deepening the knowledge of the participants on the content of the Charter and motivate them to take this knowledge home and spread it further within their organisation and to generate change when needed to improve the quality of youth work
Introducing tools and good practices related to participatory action research and follow up, adaptable and inspirational for local realities.
Offering a (peer-)learning opportunity within EGL about quality development in municipal level youth work
Supporting the internationalization of local youth work via showing links to European initiatives and programmes as well as the European Youth Work Agenda and the Bonn process.
This call was published on the www.salto-youth.net website: http://trainings.salto-youth.net/9882
To learn more about the training course and the application procedure, please, read the attached Call for participants.