Download to PDF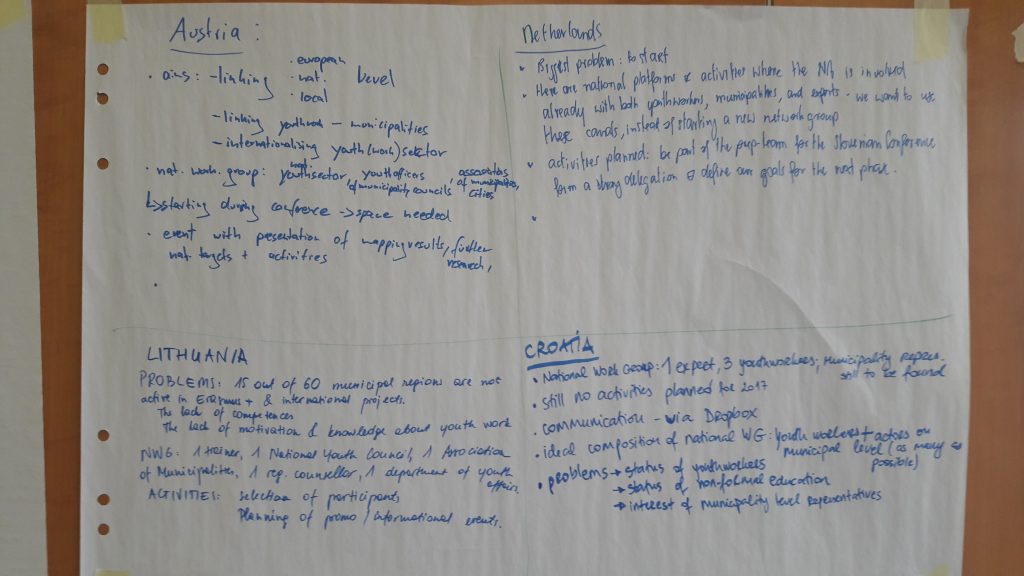 Meeting of the Advisory Board
Hungary, Budapest, February 28 - March 1, 2017
European level activity
The Advisory Board involves all project partners.
The main conclusions of the meeting were the following:
Setting up national working groups in each participating country.
Profile of the members of National Working Groups:
Erasmus+ youth NA staff
stakeholders, decision-makers of municipal level youth work and youth policy
professionals, experts who are influential about municipal level youth work
professionals with a diverse range of expertise reflecting on the needs of the field
persons who have knowledge and experience about the challenges of municipal level youth work
representatives of youth councils
researchers who are involved in studies on municipal level youth work
representatives of networks, umbrella organizations dealing with municipal level youth work
Tasks of the National Working Groups:
contribute to the mapping exercise
send participants to the conferences of the project
disseminate the project outcomes at the national level
act as multipliers regarding the project
define, plan, realize national activities
link international and national level developments, projects
contribute to realizing the planned outcomes and outputs of the projects including the recommendations on municipal level youth work and policy
Possible aims of the project at the national level
Bringing NAs closer to the local level;
Introducing the international/European element (international youth work) to municipal level youth work;
Getting to know the needs of local youth work, youth workers better;
Networking: Building links between stakeholders within the municipal level and between the national and municipal level as well (youth workers, decision makers and staff members of municipalities). Links between municipalities can be established as well;
Common aims: learning from and inspire each other;
Sensitizing those youth workers by the project who are not active on Eruopean level yet – once being part they will be much more motivated.