The second Project Lab of Europe Goes Local focuses on rural youth work. This training will take place in Chalkidiki (Greece) from the 14th to the 17th of November 2022. The participants will also join a preparatory webinar and an online meet and greet session in October. If you're interested in a general Project Lab about local youth work, you can apply for the Project Lab in Bonn.
Project Labs
The Europe Goes Local Project Labs are international training and networking events. They bring officials and practitioners in youth work together to strengthen the usage and exploitation of the possibilities offered by the Erasmus+ and the European Solidarity Corps programmes for youth work at municipal level.
Specifically, the Project Labs aim to:
provide information and training on the possibilities of the European mobility programmes, and how to use them;
present and curate good practices in using the programmes, with a focus on youth work at municipal level;
support partnership-building and networking, with a focus on youth work at municipal level;
allow for project development with a focus on the usage of the European mobility programmes, and provide coaching thereof;
provide direct contact and support by the network of National Agencies to the potential project promoters / beneficiaries.
Find more information about this project lab on rural youth work here, and apply until the 5th of September here.
You can also still apply for the Project Lab in Bonn until the 5th of September. This project lab doesn't have a specific theme.
Europe Goes Local will be launching a biweekly newsletter in the future. EGL will be using this new communication channel to send the latest news to the mailbox of interested people.
The themes of the newsletter will be:
Events and activities of EGL
News and activities of partners
Articles and videos about good practices
Important highlights of European youth work for local youth workers
EGL aims to launch the future newsletter in the fall, but you can already subscribe here.
In the framework of the Europe Goes Local project, the German and Hellenic National Agencies of Erasmus+ and European Solidarity Corps programmes are looking for trainers who will be part of a team that will implement the Europe Goes Local (EGL) project labs in 2022. The application deadline is the 25th of July
Parameters of the Project Labs
Two project labs are foreseen in 2022.
The first project lab has a general focus and will take place in in Bonn (Germany) from 19-21 October 2022 (including arrival and departure).
The second project lab is focussed on municipalities and local organizations from rural areas. It will take place from 14-17 November 2022 in Halkidiki (Greece).
Both project labs will have around 30-40 participants from the programme countries and neighbouring partner countries of the Erasmus+ and European Solidarity Corps programmes.
There will also be a joint preparatory webinar for the participants of both events during the week of 3-9 October.
Requested trainers profile
Essential skills and experience:
Training and facilitation experience in international events with a group of 20-40 participants;
Familiarity with the youth sector in Europe, awareness of the role of different stakeholders;
Familiarity with Erasmus+ and European Solidarity Corps programmes;
Extensive experience in both formal and non-formal methods applicable at the project labs;
Proficiency in working with small groups in workshops;
Familiarity with methods that support exchanges of information and ideas between all participants of the event;
Experience in facilitating interactive webinars with the use of participatory online methods and tools;
Fluency in English.
Advantage:
Knowledge of Europe Goes Local
Working conditions
All costs of travel, board and lodging incurred in relation to the meetings and events will be covered by the organisers. Expert fee (gross): €320/working day.
The number of working days depends on whether the trainer facilitates only one or both project labs.
Number of working days for one lab: 8 working days
Number of working days for both labs: 13 days
More information and how to apply
Find more detailed information and how to apply here.
You can also find the call for participants here.
SALTO Eastern Europe and Caucasus made beautiful videos of their EGL municipalities. We've bundled all the videos of SALTO EEC for you here. You can click on "subtitles" on YouTube to watch the video with English subtitles.
Moldova
Let's start with the municipalities in Moldova!
The first video is about Cahul, which is a city and municipality in southern Moldova. The city is the administrative center of Cahul Distract.
The next municipality is Sipoteni, a commune in Călărași District.
Georgia
SALTO EEC also made three videos about their EGL municipalities in Georgia: Chokhatauri and Zugdidi.
Chokhatauri is a town in Georgia's Guria region, 310 km west to the capital of Tbilisi. It is an administrative center of Chokhatauri Municipality, which comprises the town itself and its adjoining 60 villages.
Zugdidi is a city in the western Georgian historical province of Samegrelo (Mingrelia). The city is located 318 kilometres west of Tbilisi, 30 km from the Black Sea coast and 30 km from the Egrisi Range.
The first video of Zugdidi is about their culture center.
And then we also have the video about the library in Zugdidi.
We posted one video a week on our social media, and this concludes our weekly videos. You can also watch all of them on the YouTube channel of SALTO Eastern Europe and Caucasus Resource Centre !
Europe Goes Local has been very busy in the last couple of months! Not only do we have our first European conference since covid next week, but we also launched a beautiful new website.
Take a look around! You'll still be able to find everything you're used to from us, but there are also new things to discover. Not only is the site prettier, if we may say so ourselves. But it's also easier for you to send us good practices to share with all of us.
We've also revamped our general visuals to better match the needs of our platform, but we've kept our beautiful logo and name. We'll start using our new visuals during our European event next week.
Activating Citizens: Municipalities Making Use of the European Solidarity Corps will go on from 21-22 June 2022. It will be two half-day sessions from 9:30 to 15:00. The deadline to apply is 22 May 2022.
The seminar will:
present funding opportunities of the new European Solidarity Corps Programme 2021-2017;
share inspiring examples from Europe and the partner regions on how municipalities and young people can benefit from the European Solidarity Corps;
show how to foster social innovation by volunteering within the European Solidarity Corps.
During this training course you will:
improve knowledge of European programs;
explore funding opportunities;
share best practices;
receive guidance from National Agencies;
connect with others.
There will be 30participants from Europe and the partner regions (Western Balkans, Eastern Partnership Countries, and South-Mediterranean countries). The Bulgarian National Agency for Erasmus+ and ESC, European Solidarity Corps Resource Centre, and Europe Goes Local are hosting this training course.
More info and apply here.
Join us at Europe Goes Local Webinar – Introduction to Participatory Action Research in Youth Work. The webinar will take place on Thursday, 28th of April 2022, via Zoom from 10h CET to 13h CET.
Participatory Action Research (PAR) is a way to invite local communities to learn about their own needs and aspirations. Youth workers and local youth supporters can use it to involve young people and other stakeholders in reflection, collaboration, and social change processes.
It will include interactive activities, a presentation by an expert and practitioner of PAR, small group reflections, and plenary discussions.
In this Webinar, you will:
learn about PAR, its principles, and primary objectives;
hear about concrete examples of how it has been applied in different contexts;
have a clear overview of the PAR process step by step;
discuss with peers how you would use it in your local community;
reflect on engaging and maintaining commitment from all stakeholders in participatory and collaborative processes;
have access to resources and support materials about the methodology;
and more!
Apply by the 24th of April here.
The 4th European Event of Europe Goes Local is fast approaching! EGL is launching its platform for stronger cooperation on May 17th – 19th in Cluj-Napoca, Romania.
But that's not all. You will also:
get the opportunity to create activity plans to support your local youth work;
discuss what youth work offers and the role of municipalities;
learn about the European Charter on Local Youth Work and other European instruments;
meet local organisations and other stakeholders in local youth work from the whole of Europe;
as a special bonus, you'll get a preview of our new future website, intranet and general rebranding;
and much more!
We invite all local youth stakeholders who are committed to raising the quality of youth work and making a difference in their countries to apply and attend our event.
The application deadline is April 28th, 2022. More info and apply here.
EGL is looking for applicants for two study visits in Finland happening this May! The deadline to apply is April 19 2022.
Youth Work in Schools
The study visit "Youth Work in Schools" will happen in Lahti from the 15th to 19th of May 2022. You will learn how the role of youth workers is enriching the school environment, how youth workers are engaging with the youth and also with teachers and the wider educational community.
Apply for this study visit here.
Municipal Work in Helsinki
The study visit "Municipal Work in Helsinki" will take place in Helsinki from the 16th to the 19th of May. You will learn how the city of Helsinki organizes its municipal youth work, what the structures are,
how administrative planning is done, how priorities are set, how the stakeholders are included, and what evaluation system is in place.
Apply for this study visit here.
Our colleague Judit talked about The Changemakers Kit and EGL at DYPALL Network's conference "Building Resilient Communities" and their training course "Youth Takes The Floor" in Braga.
The Conference was organised with the support of Agência Nacional Erasmus+ Educação e Formação.The training was organised with the support of the European Youth Foundation of the Council of Europe . Both activities were supported by Município de Braga.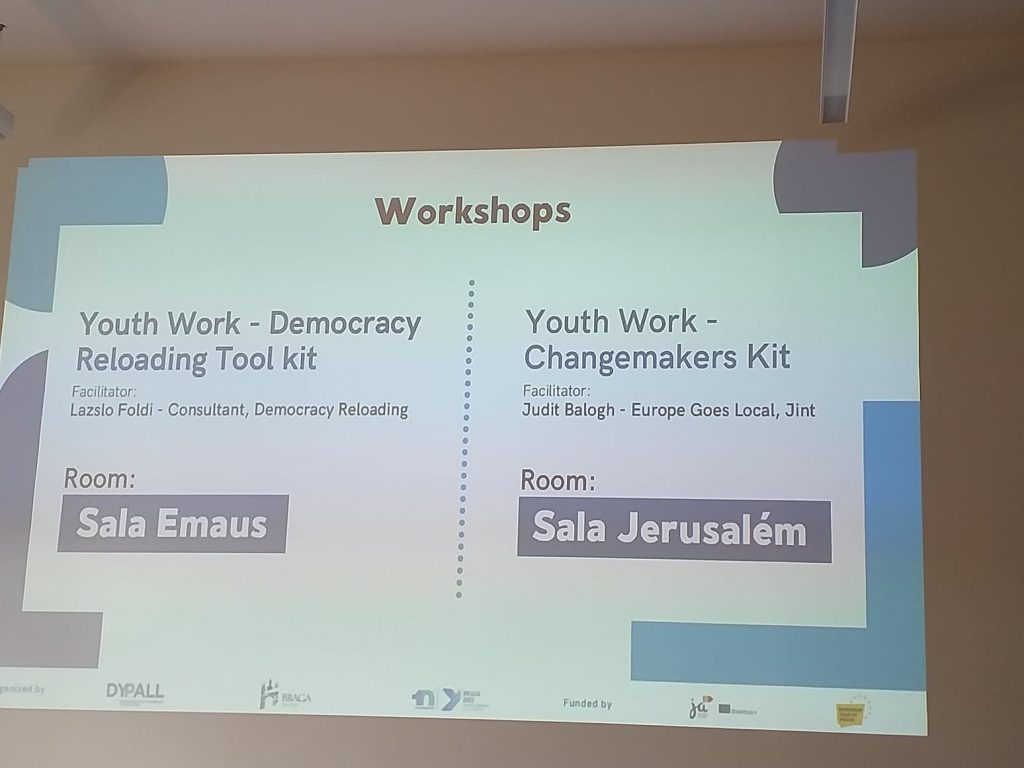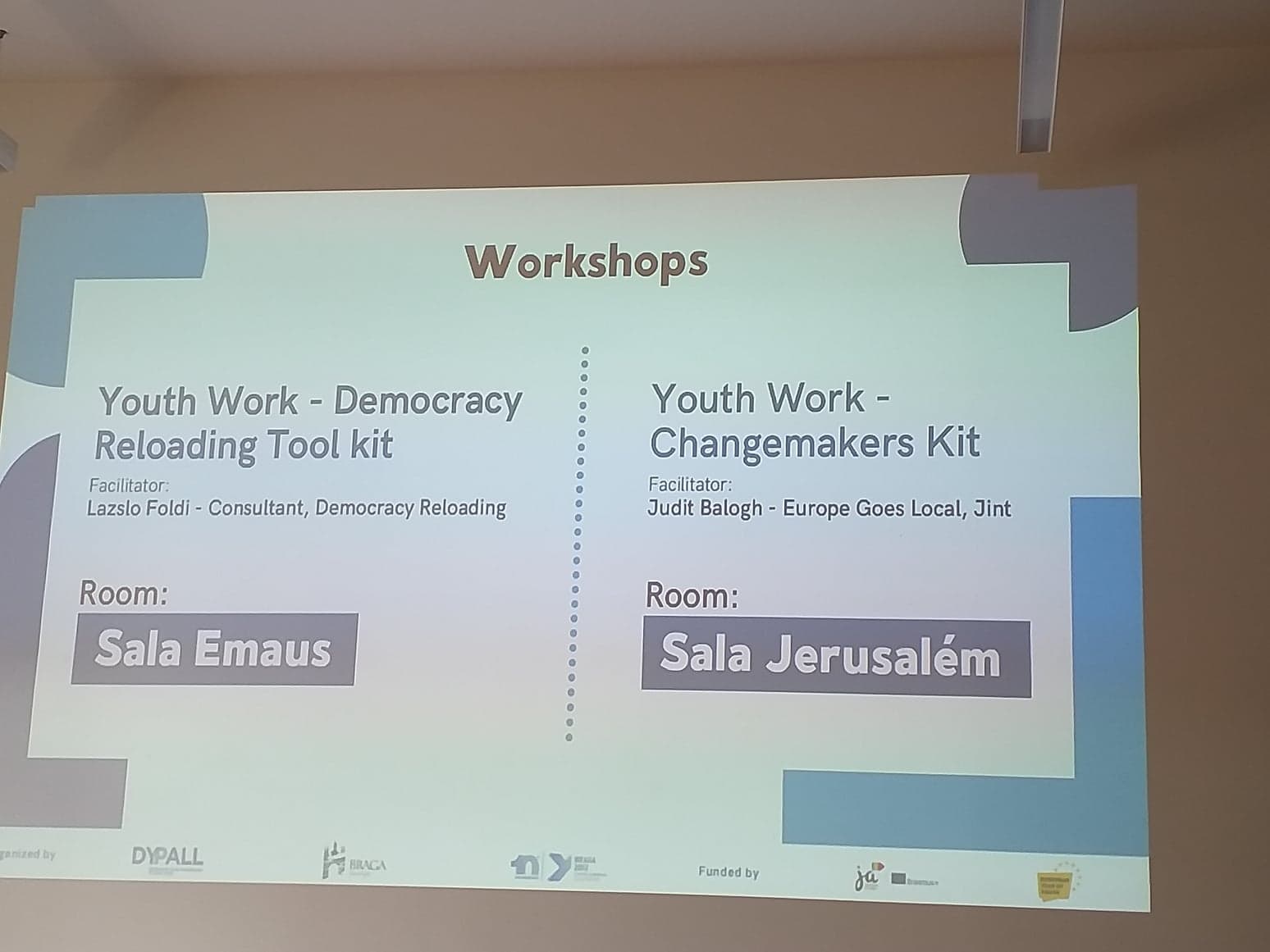 Changemakers Kit
Are you also curious about The Changemakers Kit? You can find it here.